ENTER THE FADE RECORDING
DAY 3
Whilst I was away at the Reading Festival (which was incredible by the way), I left the guitar recording in the very capable hands of Ben McNeil. He sent me this photo while I was away, I've yet to hear how it all sounds but I've been informed that it's big, heavy and melodic. Exactly what we were after.
UPDATE - just had a quick listen to them having been sent a rough mix. It's sounding really cool. Getting very excited so now it's just a case of doing vocals. Keep posted y'all.
A Tidy Studio, Is A Happy Studio
I cannot stress this point enough. Whether you have a bedroom studio setup, a professional studio, or even if you work in a live sound environment, keeping things tidy is the way forward.
Its not only important to make your client happy but also to make yourself happy. I know that when I've got a long day of mixing ahead of me, my studio HAS to be tidy otherwise I'll get really distracted. Or, if you have a client in, you can easily track which cable goes where, which will make your life easier if you need to re-patch anything.
It's a good ritual to have and to keep up. What do you guys do to ensure you have a happy working environment? Comment below.
ENTER THE FADE RECORDING
DAY 2
Bass = done! We had the singer of the band track the drums yesterday and the guitarist track the bass today. It turned out that what the guys were after was a scooped bass tone with a bit of grit. So we had a DI signal before the amp, PG52 on the amp, and a beta58a to capture some grit. It worked out well and the initial relationship between the kick and bass guitar is really good. 
ENTER THE FADE RECORDING
DAY 1
After day 1 of recording with Enter The Fade, The drums are now finished. Very happy indeed. The band had really worked hard on rehearsing with a click track as well as demoing the tracks for me and fellow engineer Ben McNeil. It's a rare thing to see a band that focused and that driven and was a great thing to see. I'll be posting pictures and a more detailed write up in days to come so stay tuned.
Recording Metal
So fellow producer and engineer Ben Mcneil and I are going to be recording a 3/4 track EP for local metal band Enter The Fade. We start tracking drums on Sunday which we are both very much looking forward to. 
I'll be sure to post some pictures, audio clips and generally blog about the sessions. So if you're interested in how it goes, mic placements and techniques used then be sure to check out Tales Of Audio next week.
Have you guys had any experience in recording the metal genre? What interesting techniques do use when doing so?
Here's a lyric video for our new song "Promises" from Major/Minor out on 9/20.
Im so excited about this new album!!!
Pro Audio Files Shootout List
This is a great list of microphone shootouts compiled by Dan Comerchero of The Pro Audio Files blog. There's some great shootouts there including two of my own. When you get some time out in your day be sure to check them out, and the rest of his blog as well. There's some great content in there.
I'll be posting some more shootouts of my own very soon. Keep posted!
Programming Drum Trick
A highly recommended trick to help add realism to your sequenced drum tracks from Ronan Chris Murphy. Check out the rest of his videos too. There's some really great advice!
Last Day Of Folk Week In Broadstairs
Well it's the final day of Folk Week. It seems to have wizzed past this year. But I've seen some pretty interesting acts from varying styles, genres and countries of origin. It's gonna be my last year this year of me volunteering :-( as I'll be a live engineer next year :-) good times.
Use a REAL Room For Reverb
A week ago I posted about using the Behringer C3 to test how well a budget mic would do in a recording situation which you can find here. The other reason why I carried out this recording was to see how using a room's natural reverb could make your mixes stand out. There may be some of you out there that aren't quite happy with your stock reverb plug ins or hardware. So why not record in a real room and utilise the rooms natural sound?
So here's how I went about doing it. The aim was to have the drums sound really big much like the beginning of the Foo Fighters' song My Hero, or Coldplay's In My Place. If you listen to either of them, the drums sound huge and, to me, sound like they were recorded in a big space. 
Now like most home studio owners, I don't have the luxury of a big reverberant room to hand. So I went to a local social centre hall. They were kind enough to lend out the room for the day to do a series of drum recordings, for nothing. Thats right £0.00!! There are places out there that are willing to help out the community and could well help you out. Use your contacts to your advantage. That's why we network right?
The Drum Kit
So here's a very basic recording of a drum kit used in the room. Its only 4 mics: kick drum (Samson QKick), Snare (Shure SM57), and stereo pair overheads (Samson C01):
The Corridor Mic
Here's the Behringer 'corridor' mic in isolation:
Behringer C3 Room Mic by benpeilow
Lets Blend The Two
And here is a clip of them together:
Drum Kit & Behringer C3 Room Mic by benpeilow
As you can hear, there's a big difference between the standard drum mic setup and adding in the 'corridor' mic to add in the natural reverb of the room. It sounds unique and it'll make your recordings stand out. Try it and see what you think of it.
And so begins Broadstairs Folk Week 2011
I only found out that this existed last year and got involved back then to network with a series of engineers, artists and organisers. It's because of that that I'm doing all this work that i am today. So all the handstamping, stewarding and running around was definitely worth it.
Now I'm back for my second year, doing the same thing unfortunately, but I've been told I'll be engineering some of the smaller venues. Very exciting stuff!!
There'll be some more posts soon everyone. Don't worry I haven't forgotten you ;-)
Behringer Make Mics?
Thats right. They most certainly do. 
After listening to the Home Recording Show (Episode 121), there is a question on their "Comments" section about the Behringer C3, which is a large diaphragm multi-pattern condenser and asking if they had any experience with it. It turned out that they didn't. 
I, like many of you I'm sure, have had to choose the very cheap microphones out there due to a very limited budget. The Behringer C3 was one of them as I was after a multi-pattern condenser and I was a still a poor student at the time of purchasing it. 
How Does It Perform?
I did a recording about a year ago now of a drum kit with 2 goals in mind. Firstly, to see how this budget microphone would behave in a recording situation. And secondly, to see how using a rooms natural reverb could bring a different sound and feel to your mixes (this post will come later on!)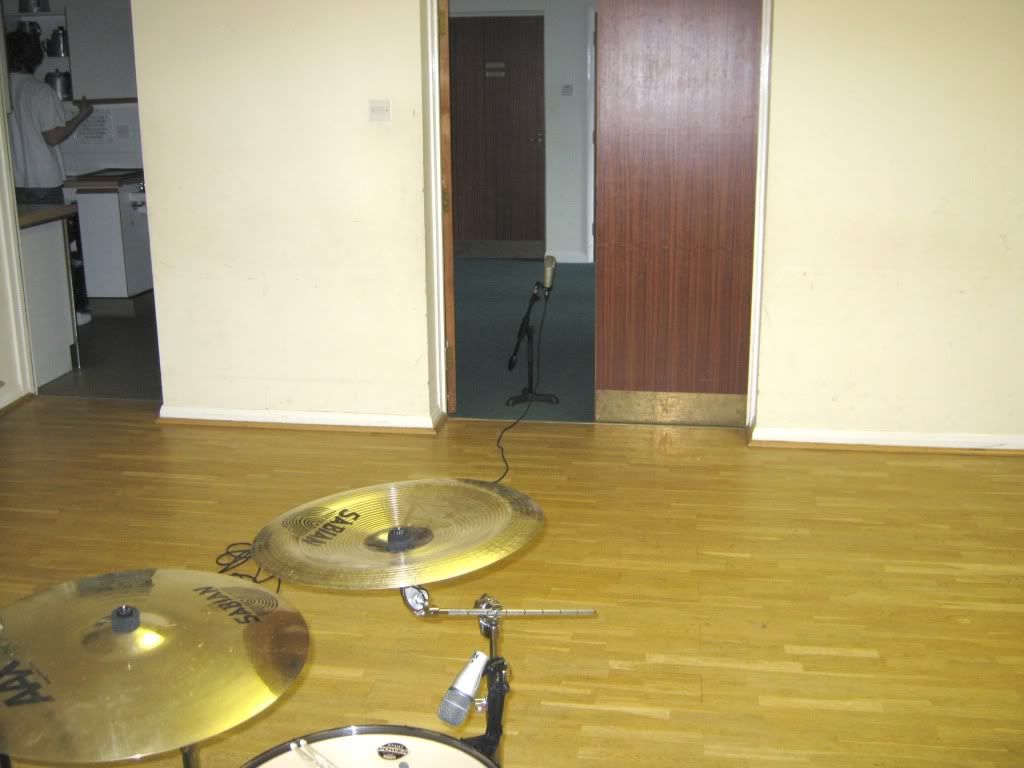 The clip below shows what the C3 sounds like as a room mic. It was set to omni (or omni-directional) mode, meaning that it was picking up sound equally from all directions, and placed just outside of the already reverberant room and into the corridor. 
Behringer C3 Room Mic by benpeilow
So as you can hear, the end result was pretty good. Not only did it pick up the hall's reverb well, but the one thing that surprised me was the amount of attack remained on the snare and toms.
This could be used to compliment a full drum recording and this is something we shall explore in the next post. 
What do you make of this sound sample?
Have you had any good or bad experiences with cheaper microphones such as the C3?
Leave your comments below!
Something that you might find interesting. Proving you don't have to spend much to record different instruments!