Keeping Your Recordings Simple
DAW's are amazing tools aren't they? They allow us as producers and engineers endless options and possibilities that will aid us in making the best sounding recording possible. A feature that is common amongst many DAW's is having an unlimited track count, meaning that you can have as many tracks of audio and/or MIDI as you want. Great right?
Well not necessarily, Although it is great to have that option, sometimes a song needs only a few tracks. An excellent example is of Adele's hit Someone Like You from her latest album 21. Having read September's edition of Sound On Sound, it has a picture of the session file showing that the only tracks recorded were a stereo piano, a vocal and a minimal amount of backing vocals. That's it. That's all it needed. Here take a look for yourself: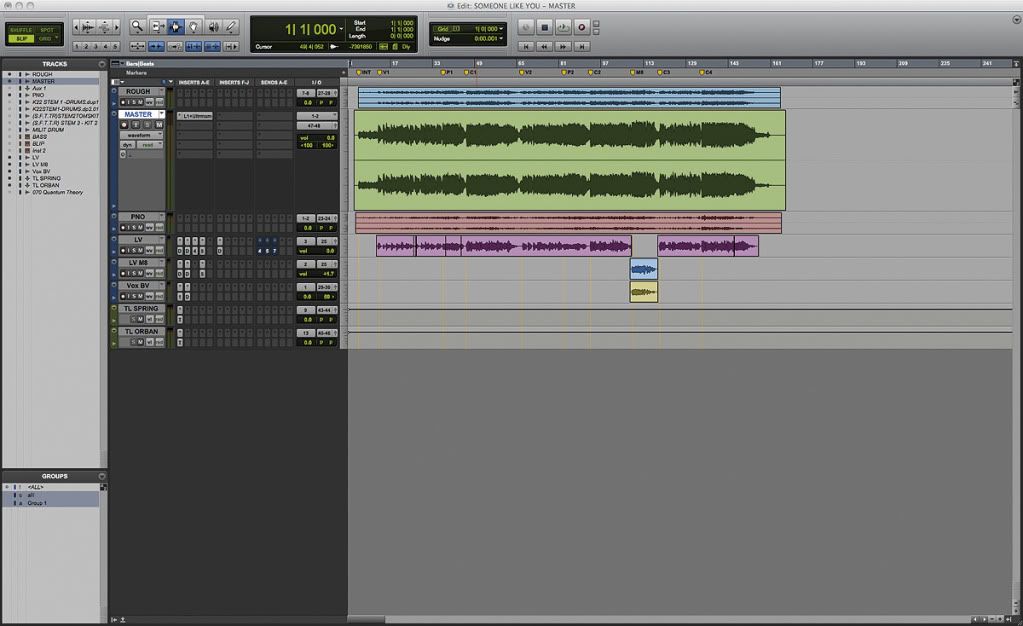 So think about this when you've got a session coming up. You may not need 8 mics on that acoustic guitar, maybe you only need one! Start thinking about arrangements when you're next recording and see how it turns out.
What's the most simple recording you've done? Comment below!
(Source: soundonsound.com)
This Steve Jobs commencement speech is awfully inspiring and well worth fifteen minutes of your time. It hits home especially hard for me in the final section about life and death because of what my family went through with my father. I'm embarrassed that this has been floating around the internet for years and it took Jobs' death for me to actually hear it. The man left an indelible mark on my life with his technology, and sure as hell made the lives of many a musician a whole lot easier both in the studio and on the road.
Apologies For My Absence
Hey guys, hows it goin?
My apologies to one and all, I've been insanely busy over the past few weeks but its all been worth it. Im now working at the local theatre the Marlowe. Got some great acts coming in that I could potentially be working with, as well as live work and some recording bits and bobs.
In my absence however, I've had a few ideas for some posts that I will enlighten you with soon. Stay tuned guys to Tales Of Audio
MOARE MUSIC 2011
I thought I'd geek out with you all if I may. 
The drums at the Moare Music festival sounded incredible. Well it all sounded amazing, but the drums really stuck out for me. So I thought I'd indulge you into some technical geekery and list the mics that were used on the kit:
Kick In - Shure SM91
Kick Out - Shure Beta 52
Snare Top - Shure beta 57
Snare Bottom - Shure SM57
Hi Hat - AKG 451
Rack Toms - Sennheiser e604
Floor Tom - Sennheiser e604
Overheads  -AKG 1000
End Of The Festival Season
Well last night Moare Music came to an incredible close with Incognito playing an amazing set that blew everyone away. A really great way to end the festival. And, for me its the last festival of the year. I've been lucky enough this year to have done many more festivals than I had done last year which has just been fantastic. Hopefully next year that number will go up even more! 
Here's some of those festivals that I've been to this year:
Lounge On The Farm
Broadstairs Folk Week
Go Go Festival
Moare Music
For all those starting out and want to get some sort of work experience in the field of sound, then working at festivals are the way forward. A few years back I worked at these festivals for little or no money. However, the amount I learnt at each weekend was astounding! I'd say I learnt more in some of these weekends than I did in 1 year of college. It's also an incredible networking opportunity. 
Tips For EQ'ing Effects
A great post by Bobby Owsinski. It might give you a few ideas for your next production. Take some time to read this great article.
mOare Music
My final festival of the year is this weekend and it all kicks off today. I'm off to the site to help with loading in and setting up. I've been doing this festival for the past two years and it's always such a good laugh with some really amazing engineers and some very talented artists. I'll be sure to post about things as the weekend goes on.
ENTER THE FADE RECORDING DAY 4 So all the vocals are finished up. After auditioning a range of mics from Shure, M Audio and Red5, the Audio Technica AT2020 was the go to mic on vocalists Sam's voice. The mindset behind the recording process was to record the singing first and the screaming last. This way, his singing voice wasnt completely shot had we done it the other way around. The screams were recorded with a SM58 as a handheld mic allowing Sam to move about freely in the vocal booth. It really bought a great performance although, as you can imagine, compression is gonna have to be used to tackle the level changes where the mic was moved around. Oh and a tip for you guys that worked really well on the day. When recording vocals, try turning the lights off, it made the vocalist feel really comfortable when singing each take. Be sure to give them a wind up torch though. (yes this actually happened!!) :-)
Getting Outside Your Comfort Zone
This little tip is both easy and invaluable. What is this tip that is so easy you ask?
Listen to lots of different music
Now I bet some of you are rolling your eyes and thinking "duhh!", and if you're already doing this, then great! As a producer, engineer or live sound engineer, this is an invaluable tool for many different reasons.
For example, if you've got a new client coming to you, and you know a little bit about the band that they are most influenced by, thats going to give you a great headstart in connecting with the client as well as getting them to trust you. This also means that, when it comes to mixing, you've got some reference material ready.
Another reason why its always a good idea, is you can get some great ideas from other genres, whether it's a production technique or a songwriting idea. More importantly though, we are in the music business! It's always a great feeling discovering a new band and getting excited about new music.
So go out and buy a CD/iTunes MP3 of a band that you wouldn't normally listen to. Take a chance. Comment below and let me know what you bought!
ENTER THE FADE RECORDING
DAY 3
Whilst I was away at the Reading Festival (which was incredible by the way), I left the guitar recording in the very capable hands of Ben McNeil. He sent me this photo while I was away, I've yet to hear how it all sounds but I've been informed that it's big, heavy and melodic. Exactly what we were after.
UPDATE - just had a quick listen to them having been sent a rough mix. It's sounding really cool. Getting very excited so now it's just a case of doing vocals. Keep posted y'all.
A Tidy Studio, Is A Happy Studio
I cannot stress this point enough. Whether you have a bedroom studio setup, a professional studio, or even if you work in a live sound environment, keeping things tidy is the way forward.
Its not only important to make your client happy but also to make yourself happy. I know that when I've got a long day of mixing ahead of me, my studio HAS to be tidy otherwise I'll get really distracted. Or, if you have a client in, you can easily track which cable goes where, which will make your life easier if you need to re-patch anything.
It's a good ritual to have and to keep up. What do you guys do to ensure you have a happy working environment? Comment below.
ENTER THE FADE RECORDING
DAY 2
Bass = done! We had the singer of the band track the drums yesterday and the guitarist track the bass today. It turned out that what the guys were after was a scooped bass tone with a bit of grit. So we had a DI signal before the amp, PG52 on the amp, and a beta58a to capture some grit. It worked out well and the initial relationship between the kick and bass guitar is really good. 
ENTER THE FADE RECORDING
DAY 1
After day 1 of recording with Enter The Fade, The drums are now finished. Very happy indeed. The band had really worked hard on rehearsing with a click track as well as demoing the tracks for me and fellow engineer Ben McNeil. It's a rare thing to see a band that focused and that driven and was a great thing to see. I'll be posting pictures and a more detailed write up in days to come so stay tuned.
Recording Metal
So fellow producer and engineer Ben Mcneil and I are going to be recording a 3/4 track EP for local metal band Enter The Fade. We start tracking drums on Sunday which we are both very much looking forward to. 
I'll be sure to post some pictures, audio clips and generally blog about the sessions. So if you're interested in how it goes, mic placements and techniques used then be sure to check out Tales Of Audio next week.
Have you guys had any experience in recording the metal genre? What interesting techniques do use when doing so?
Here's a lyric video for our new song "Promises" from Major/Minor out on 9/20.
Im so excited about this new album!!!