Don't Forget The Little Things
Hello everyone,
Apologies for the severe lack of posts of late I have been extremely busy doing all sorts of jobs as it approaches to the festival season. As it happens I am writing to you now from the Netherlands having just done the UCI BMX supercross world championship in Papendal!
This morning at breakfast I just bought on eBay 2 small mic stands for £25 ($40/€31), and it got me thinking. When I was setting up my home studio setup for the first time, there was only one thing on my mind…microphones! That's all I wanted. Without mics, there's no recording right?
Well it certainly backfired, as when I went to record I realised I had to use and old frayed XLR to mini jack cable, using a cardboard box on a swivel chair as a mic stand, and a coat hanger for a mic clip (unfortunately yes! This is a true story!)
Where am I going with this? Don't forget to invest in the little things that you may forget about when you first setup. Mic stands, decent cables, mic clips, perhaps some Velcro cable ties to keep your cables neat, a pop shield…you get where I'm going with this. Have a think :-)
What little thing do you most need? Alternatively, if you're all setup and actively recording or mixing live, what piece of equipment did you forget about when you first started? Comment below.
It's good to be back :-)
Guitar Miking Feature
Coming up I've got a few recordings I'd like to share with you that I think could help you in your recording process and/or live set up. I'll be looking at a variety of ways capturing an electric guitar using a Shure SM57 and how moving the microphone can really make a massive difference to the tone and sound of the instrument. To save you reading one very large document I'm going to break it up into small chunks so that it's easy to find a specific set of samples.
Stay tuned!
A great speech made by Dave Grohl. Recordings are all about the human element, not absolute perfection. A video well worth watching for all you studio engineers out there!
Fixing a Broken Bass with Distortion
So I'd like to share a tale with you, my audio friends, about a recording I did for a local band earlier this year. It was for my brother's band called Atlas, they wanted a simple recording done so they could give out their CD for gigs as well as putting something on their Myspace/Facebook page. So I set off with my Focusrite Saffire Pro 10 and a few mics and went to their practice room to do a live multitrack recording. 
Now there's quite a few things to be aware of in a live multitrack recording (which we'll discuss another time!) but one thing that was very apparent was that the bass guitar sounded awful. The bass itself sounded really bad, and as we were in a local rehearsal room, had only 3 hours to setup, record 3 songs, and de-rig, we had to go with it. It sounded like this:
As you can hear pretty terrible. [This was recorded through a DI box and then into the Focusrite interface.]
So having listened back to it properly back at my home studio, I soon realised this was a really big problem, especially as the bass opened the song on its own before the rest of the band came in. Having tried a variety of editing ideas and various plug ins, I stumbled across Logic Pro's Pedalboard and the Splitter/Mixer pedal.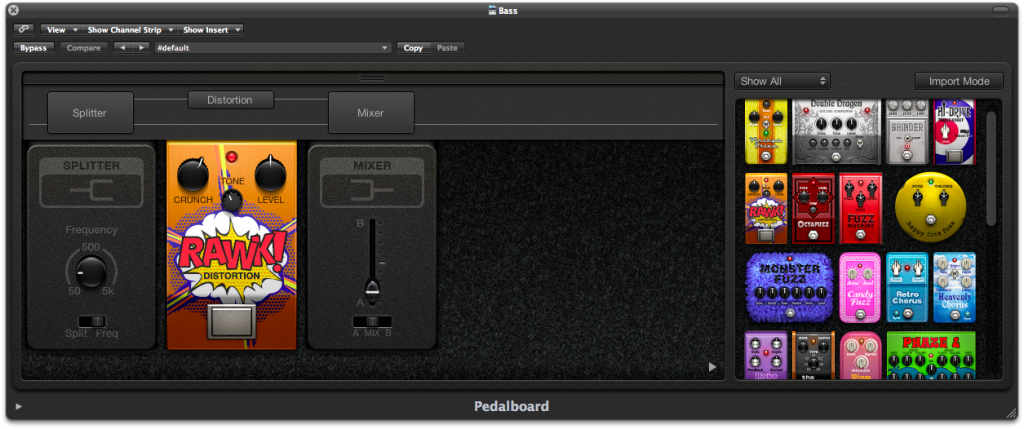 As you can see from the image above the signal is being split in two before reaching the mixer and becoming a mono signal again. Signal Path A was the original dry, bad sounding bass, whereas Signal Path B was sent to the distortion plug in that I inserted. This set up means that I could blend the two signals to taste. With just distortion, this bass sounds pretty unintelligible and you cannot tell what notes are being played, so by blending the two, you're able to keep the clean signal and distinguish each note and rhythm. 
One thing to also notice is that the Splitter is set to "Freq" or Frequency. To quote Logic Pro's Manual:
"When set to Freq, it works as a frequency-dependent signal splitter that divides the incoming signal. Signals above the frequency set with the Frequency knob are sent to Bus B. Signals below this frequency are sent to Bus A."
In this scenario, everything under 110hz was the original bass guitar signal, everything above 110hz was the distorted signal. On the Mixer, it has been set so that only a small amount of the original signal is being heard. The end result sounded like this:
The popping is still slightly audible, but it is a big improvement. Thankfully, Atlas's style was very much in the post-hardcore punk genre, much like say Gallows, so having showed the band this newly distorted bass sound, they really liked it and proceed to use a distortion pedal for when they played it live. Happy days. So here's how it sounds in context with the rest of the band:
So there we go, not only is it possible to fix a bad sounding bass with distortion (should the genre suit of course, you don't wanna be doing this on a folk record now would ya!) but you can get some quite creative results when using the Splitter/Mixer pedal in Logic Pro. Have a go and see what you come up with!
As always, please comment below.
Boundary Microphones
Recently I found a Yoga boundary microphone on eBay. I saw it with a few minutes left and it was only going for a few quid so I bought it. I didnt know quite what to expect; whether it was going to sound awful, whether it could handle any loud sources. 
So it came through the post and I checked it out and I was pretty impressed. I was doing a recording of my band Smoking Grace so I thought I'd take it along. When I was doing stage crew work at work local festival Moare Music, I remembered that the kick drum was miked up with a Shure 91 (boundary mic) inside the kick drum and a beta 52 for the outside, with the theory that the boundary mic provides the clicky sound whilst the beta 52 provided the low end thump, so I thought I'd give this a go. I think that it turned out really well. The general theory worked and depending on what kind of a kick sound I wanted, it was a case of bringing up either or both faders.
Here's a few audio examples so you can hear for yourself:
The boundary mic inside the kick drum:
And a blend of the inside and outside mic:
[These are as they were recorded and no effects/processing has been added]
So let me know what you think, and let me know what experience you have of boundary mics! Comment below
ENTER THE FADE RECORDING DAY 4 So all the vocals are finished up. After auditioning a range of mics from Shure, M Audio and Red5, the Audio Technica AT2020 was the go to mic on vocalists Sam's voice. The mindset behind the recording process was to record the singing first and the screaming last. This way, his singing voice wasnt completely shot had we done it the other way around. The screams were recorded with a SM58 as a handheld mic allowing Sam to move about freely in the vocal booth. It really bought a great performance although, as you can imagine, compression is gonna have to be used to tackle the level changes where the mic was moved around. Oh and a tip for you guys that worked really well on the day. When recording vocals, try turning the lights off, it made the vocalist feel really comfortable when singing each take. Be sure to give them a wind up torch though. (yes this actually happened!!) :-)
ENTER THE FADE RECORDING
DAY 3
Whilst I was away at the Reading Festival (which was incredible by the way), I left the guitar recording in the very capable hands of Ben McNeil. He sent me this photo while I was away, I've yet to hear how it all sounds but I've been informed that it's big, heavy and melodic. Exactly what we were after.
UPDATE - just had a quick listen to them having been sent a rough mix. It's sounding really cool. Getting very excited so now it's just a case of doing vocals. Keep posted y'all.
ENTER THE FADE RECORDING
DAY 2
Bass = done! We had the singer of the band track the drums yesterday and the guitarist track the bass today. It turned out that what the guys were after was a scooped bass tone with a bit of grit. So we had a DI signal before the amp, PG52 on the amp, and a beta58a to capture some grit. It worked out well and the initial relationship between the kick and bass guitar is really good. 
ENTER THE FADE RECORDING
DAY 1
After day 1 of recording with Enter The Fade, The drums are now finished. Very happy indeed. The band had really worked hard on rehearsing with a click track as well as demoing the tracks for me and fellow engineer Ben McNeil. It's a rare thing to see a band that focused and that driven and was a great thing to see. I'll be posting pictures and a more detailed write up in days to come so stay tuned.
Use a REAL Room For Reverb
A week ago I posted about using the Behringer C3 to test how well a budget mic would do in a recording situation which you can find here. The other reason why I carried out this recording was to see how using a room's natural reverb could make your mixes stand out. There may be some of you out there that aren't quite happy with your stock reverb plug ins or hardware. So why not record in a real room and utilise the rooms natural sound?
So here's how I went about doing it. The aim was to have the drums sound really big much like the beginning of the Foo Fighters' song My Hero, or Coldplay's In My Place. If you listen to either of them, the drums sound huge and, to me, sound like they were recorded in a big space. 
Now like most home studio owners, I don't have the luxury of a big reverberant room to hand. So I went to a local social centre hall. They were kind enough to lend out the room for the day to do a series of drum recordings, for nothing. Thats right £0.00!! There are places out there that are willing to help out the community and could well help you out. Use your contacts to your advantage. That's why we network right?
The Drum Kit
So here's a very basic recording of a drum kit used in the room. Its only 4 mics: kick drum (Samson QKick), Snare (Shure SM57), and stereo pair overheads (Samson C01):
The Corridor Mic
Here's the Behringer 'corridor' mic in isolation:
Behringer C3 Room Mic by benpeilow
Lets Blend The Two
And here is a clip of them together:
Drum Kit & Behringer C3 Room Mic by benpeilow
As you can hear, there's a big difference between the standard drum mic setup and adding in the 'corridor' mic to add in the natural reverb of the room. It sounds unique and it'll make your recordings stand out. Try it and see what you think of it.
A Podcast WELL Worth Listening To
I've been listening to this podcast for about 2/3 years now. It's a weekly helping of home studio goodness featuring interesting discussions, interviews, mic shootouts and more. It's a great way to learn some new techniques and I can't recommend it enough!